Lange Grinding and Machining, Inc., formed in 1989, is a custom machine shop near Cleveland, Ohio. We specialize in precision Blanchard grinding, surface grinding, milling, and CNC machining. With over 30 years of experience, we manufacture parts from ferrous and non-ferrous materials. Also, we're one of the few machine shops with AR500 machining capabilities. Our capabilities allow us to take your machining project from raw stock to finished product in our 40,000 square-foot facility. A one-stop-shop, we can save you the time, money, and hassle associated with working with multiple manufacturers. We invite you to contact us today to discuss your precision grinding and machining needs.
OUR CONVENIENT NORTHEAST OHIO LOCATION
Located in Streetsboro, Ohio, our machining facility offers convenient access to Northeast Ohio and Pittsburgh, PA businesses. Coming from Cleveland, we are only a 35 to 40-minute drive south on Route 77 or I-480 East. Similarly, Akron requires only a 30-minute drive OH-9 North and I-80 East. Erie, PA and Pittsburgh, PA clients are less than 2 hours away with easy Turnpike access. Our attention to detail and excellent reputation also brings clients to us from the Columbus, OH area. For Blanchard grinding and state-of-the-art CNC machining capabilities near you, contact Lange Grinding and Machining.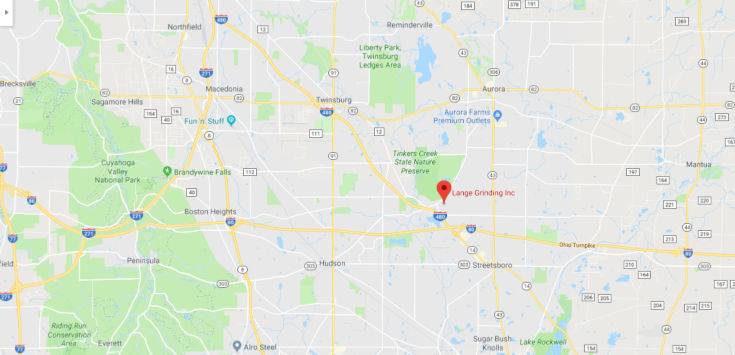 START-TO-FINISH MACHINING FOR MANY INDUSTRIES
We've worked with many different industries in the 30+ years we've been in business. Indeed, we've created quality products for the military, as well as the aerospace, automotive, energy, steel, and paper industries. Lange Grinding and Machining understands the need to protect your project information, too. Our start-to-finish process protects your sensitive information, too. There's no need to risk sharing your specialized part specs or unique part solution with multiple manufacturers. We can take it from raw stock to finished part.
FROM HEAVY DUTY TO SMALL & INTRICATE, WE MACHINE IT ALL
YOUR PROJECT TO YOUR SPECIFICATIONS
Serving a diverse set of industries means we have the expertise for both large and small precision machining projects. Our crane capacity goes up to 40,000 pounds, making easy work of even the largest jobs. We offer tight tolerances, too. No matter your industry or needs, we invite you to call Lange Grinding and Machining to discuss your custom grinding or custom machining project. Quotes are free, and we often get back to you the same business day.
START-TO-FINISH MACHINING FOR MANY INDUSTRIES
FREE, FAST QUOTES FOR YOUR CUSTOM GRINDING OR CNC MACHINING PROJECT
Want to discuss your project with idustry leaders with over 30 years of experience? We invite you to CONTACT US for your free, fast quote. Quote requests received regular business hours usually receive a response the same day. However, more complex projects, or requests received during weekends or holidays, may take us up to 72 hours to quote. Please check your SPAM folder if you haven't heard from us within 72 hours, or call us at 330-463-3500. We look forward to working with you to take your project from raw stock to finished project!