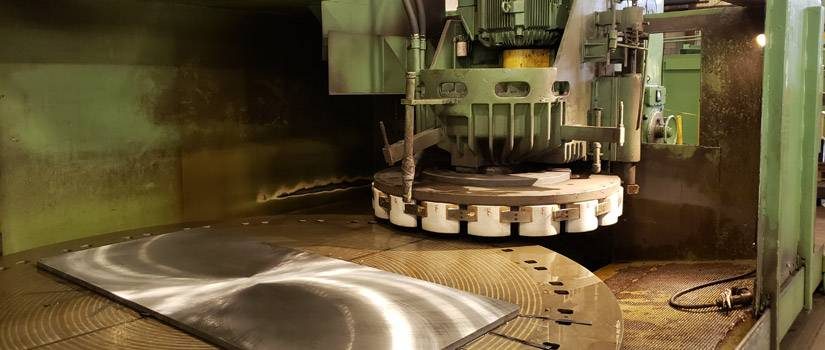 When you have large grinding projects, there is no company you should trust more than Lange Grinding. We have made the investment in 144″ Blanchard Grinders, so no job is too big. At most other shops, you'll find only 42″ grinders on site.
At Lange, we offer grinding services up to 156″ diagonally, max height of 66″, chuck size of 120″ and a max weight of 40,000 lbs.
And we invest in only the best—Blanchard grinders are known worldwide as a leader in rotary surface grinding. In fact, when you think of Blanchard surface grinders, you think quality and precision.
Our Blanchard grinding services work to remove large amounts of stock for clients in many industries that utilize extremely large workpieces. Our 144" surface grinders guarantee shorter cycle times, fewer operations and improved productivity when working with ferrous and non-ferrous metals.
If you have a project that is too large for disc grinding, including plate stock, die blocks and rotary tables, you may consider rotary surface grinding via Blanchard grinds to meet your needs. Turnaround is quick, and the expense is often lower.
The 144″ Blanchard Grinder provides tolerances of as little as one-thousandth of an inch, with similar flatness. This can, of course, vary due to materials and work pieces. However, this specific grinder can grind different work pieces to a uniform size, helping to reduce the time and expense of extensive production runs.
How do you know if our 144" Blanchard Grinder is right for your project? We believe it is the right choice for applications that require high-production rates and moderate finish accuracy.
To learn more about the grinding surfaces available from Lange Grinding, let's talk. Lange Grinding is committed to providing you with accurate grinding and machining with the shortest leads times. We are your one-stop shop. Contact us today.